Minerva Teichert Art Prints
Large collection of Minerva Teichert art including LDS Temple art and Book of Mormon art. Teichert art and paintings available.
Rescue of the Lost Lamb I Minerva Teichert Art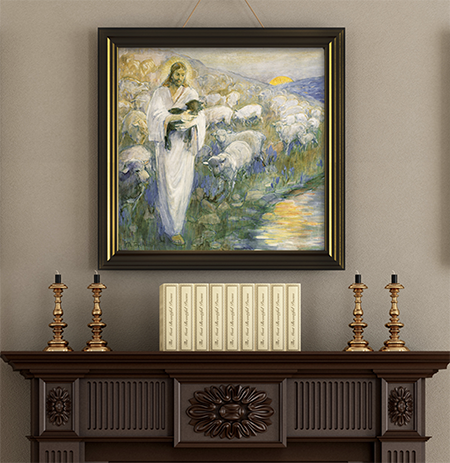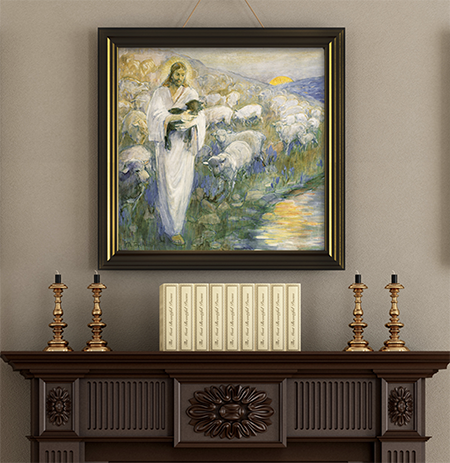 Rescue of the Lost Lamb I Minerva Teichert Art
Rescue of the Lost Lamb- by Minerva Teichert
Rescue of the Lost Lamb is among the most beloved of Minerva Teichert art. It depicts the biblical parable of the lost lamb. "What man of you, having an hundred sheep, if he lose one of them, doth not leave the ninety and nine in the wilderness, and go after that which is lost, until he find it? And when he hath found it, he layeth it on his shoulders, rejoicing. And when he cometh home, he calleth together his friends and neighbours, saying unto them, Rejoice with me; for I have found my sheep which was lost." (Luke 15:4-6).
Beautifully produced on Museum Grade Giclee Canvas.
FRAMING IS EASY - This art is offered unframed. Most of our art is made for standard sized frames so you won't need to get an expensive custom frame. Simply take this artwork to any Michaels, Hobby Lobby, or your local frame shop. They always have great sales on frames and a lot of great choices.
ARTIST: Minerva Teichert was an accomplished painter. Minerva studied at the Art Institute of Chicago and later at the Art Students League of New York. She once exclaimed "I must paint", when asked about how she continued to paint without a dedicated studio or much free time to create. Her beloved images of the Savior, along with her collection of over 400 murals, have touched the hearts of thousands. Minerva's life was firmly rooted in ideas and people, not in things. "You don't want too many things," she once wrote. "They become a burden. In fact, we shouldn't have too many things in this life, just enough for our needs. ...Do good with all the rest." Please see our other works of Minerva Teichert art.
We are proud to offer Minerva Teichert art and prints.
OUR COMMITMENT TO BE IN HARMONY WITH THE REVEALED NAME OF THE CHURCH:
On August 16th, 2018 President Russell M. Nelson of The Church of Jesus Christ of Latter-day Saints released the following statement regarding the name of the Church.
"The Lord has impressed upon my mind the importance of the name He has revealed for His Church, even The Church of Jesus Christ of Latter-day Saints. We have work before us to bring ourselves in harmony with His will. "
The Church has since released guidelines stating the use of Mormon or LDS as a substitute for the name of the the church should be avoided, but such use in proper names such as - The Book of Mormon or when used as an adjective in historical expressions such as - The Mormon Trail - Mormon Battalion, should be considered as the correct use.
The Minerva Teichert Art Gallery has been working to put our website in harmony with this important revelation. It's been customary for websites like ours to use terms like LDS Art, LDS Temple Art, LDS pictures or Mormon Art when describing our products for Google and other search engines. Our intention has been to help people find what has been termed as LDS products & LDS Gifts. It took many many months to build and add products to this Minerva Teichert art website using those relevant and popular search terms - please bear with us as we find each instance where we can better be in harmony with President Nelson's message. Thank you for your patience and your kindness during this process - Minerva Teichert Art Gallery